The Three Deuces are Mitch Manker, synthesized trumpet, Jim Moreno, spoken word, and Michael T. dance and choreography.
are Mitch Manker, synthesized trumpet, Jim Moreno, spoken word, and Michael T. dance and choreography.  The Three Deuces are three lifetime friends of the arts and brother/friends for over twenty years; three artists collaborating in a multidimensional, sensual star-burst of sight and sound, polarity and polemics, aesthetics and ennui.  The Three Deuces are multiple disciplines impacting, transforming, synthesizing the others so the final expression surprises audiences and artists alike.  One poet stated that if it wasn't magic, it wasn't poetry and the Three Deuces are magic.  We invite you to come and see.
See the events page for the next performance of the Three Deuces.  Or to contact us to enliven your conference, dance, or gathering e-mail
[email protected]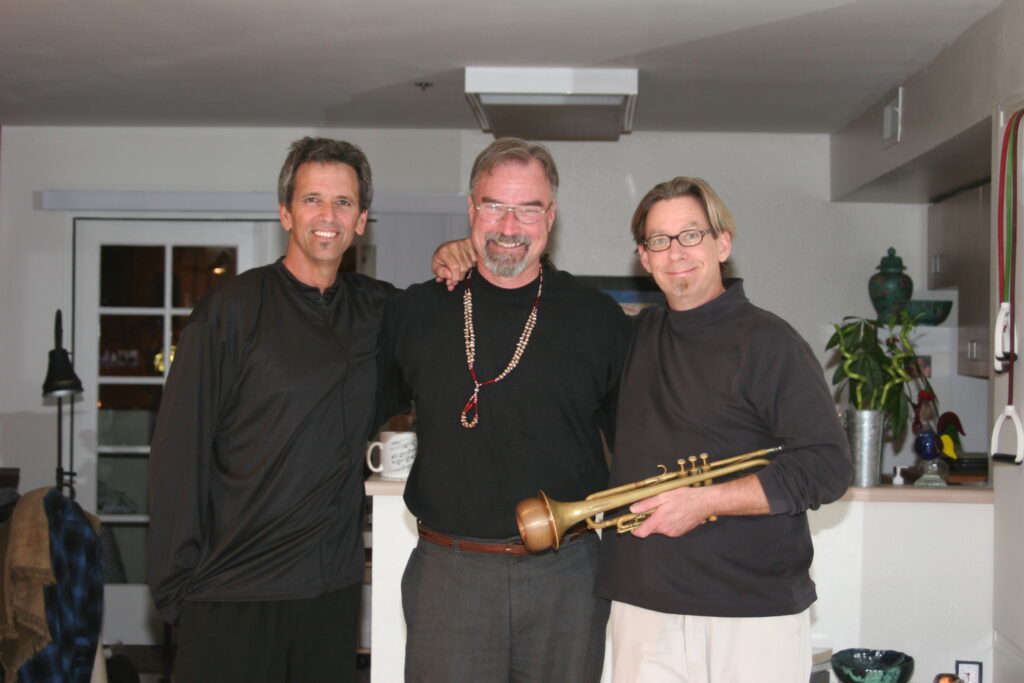 Comments by the Artists Jim Moreno
I want to thank my brothers Michael Tompkins and Mitch Manker of The Three Deuces.  Michael your dancing as we practiced or performed took my breath away.  When we merged with Mitch in three forms of art giving voice to the voiceless, Pablo Neruda smiled from his place in Poetry Heaven.  And the ancestors smiled that we would remember the people in word and dance.  Thank you. 
Mitch Manker you made my poetry stronger with your improvisation and your trumpet play.  You and I would take turns leading and following, foreground and background.  I found grace in silence between words and thunder in mystery because of your gift of jazz.  Thank you.  Thank you. When The Three Deuces practiced or took the stage I never knew what I would discover next about our merging juxtapositions or about what I had written.  Time was transformed into blessed here and now as I read, listened, watched, and waited for the next heartfelt gift of Muse.
Mitch Manker was born and raised in the Chicago area and started playing the trumpet in seventh grade. After playing with various Rock and Jazz Rock bands in Chicago and Iowa City, Iowa he moved to San Diego, California in 1977 and worked with the late, great Ella Ruth Piggee. In 1980 and 81 Mr. Manker traveled on two world tours with Ray Charles and was recorded on four of Mr. Charles' records. He can be also be seen on the video An Evening with Ray Charles with the Edmonton Symphony Orchestra. On his early influences he recalled: "Shortly after I started playing, my parents took me out to see Ramsey Lewis. A few weeks later I saw Clark Terry and that was it! I knew what I wanted to do."
In 1985 he began experimenting with one of Nyle Steiner's EVI wind synthesizer prototypes. He can be heard on Fattburger's Living in Paradise playing that instrument. In 1995 Manker co-wrote and performed two songs on Fattburgers On a Roll (Sin-Drome Records) which peaked at #5 in Billboard the week of 3/8/93, and #3 in Gavin, and R & R!
Mitch Manker is currently playing live in the Southern California area with his own two highly groups, ESP and Gringo Floyd. He also plays in Corporate Rock/Dance bands performing for Fortune 500 companies worldwide. In addition, Mitch performs with Third Force, al All-Star Smooth Jazz group featuring Tom Scott, Jimmy Sommers, Craig Caquico, and Grant Geissmann at Jazz Festivals across the country. Third Force's current album, Gentle Force is enjoying heavy international airplay and features Manker's abundant talents.

In 2000 and 2001, Mitch toured and recorded with The Januaries who have received much critical acclaim. The Januaries were twice nominated for "Best Pop Band" by the Los Angeles Weekly. During this period Mitch also toured and performed with Hootie and the Blowfish. In January of 2003 Mitch appeared on SoulTrain, the TV show with Darius Rucker (the Hootie Singer) in support of Mr. Rucker's new Urban Format solo record.
Mitch Manker also does many recording sessions on album projects, jingles, radio station ID Packages, film scores and cues (The Cable Guy starring Jim Carrey, Oliver Stone's Any Given Sunday, Goodbye Lover, and Potluck among others) using the Pocket Trumpet, trumpet, flugelhorn, or his EVI for stylized treatment of melodies.
To see more information on his work input Mitch Manker on the Google search engine, or input his name on allmusic.com. Mitch also carries a Clinician Level Endorsement with Martin Trumpets, Miles Davis' favorite brand.
Mitch co-arranged, with John Simon (Simon & Garfunkel, The Band), horn charts for A.J. Croce's debut album on Private Music. He is also featured on that album along with Jim Keltner, Ron Carter, Robben Ford, Snooky Young (NBC Orchestra) Marshall Royal (Count Basie), Bill Reichenbach, Chuck Findley, Benmont Tench (Tom Petty), and Tim Drummond (James Brown). That band appeared on The Tonight Show in October '93 and was seen in special segments taped at Caesar's Palace in Las Vegas for ESPN and Entertainment Tonight.
Mitch Manker appears on A.J.'s second album for Private Music where he is featured with Robben Ford. Mitch is also featured on Evan Mark's debut CD for Verve/Forcast with Jeff Lorber. In late 1994 he completed construction of a professional studio in his home where he composes and produces original music.
Mitch was part of the writing and performance team that produced the soundtrack for the KPBS documentary on surfing entitled The Liquid Stage. The production won an Emmy Award for it's music.
"…Manker has evolved into one of the finest trumpeters on the West Coast, period."
-George Varga, San Diego Union Tribune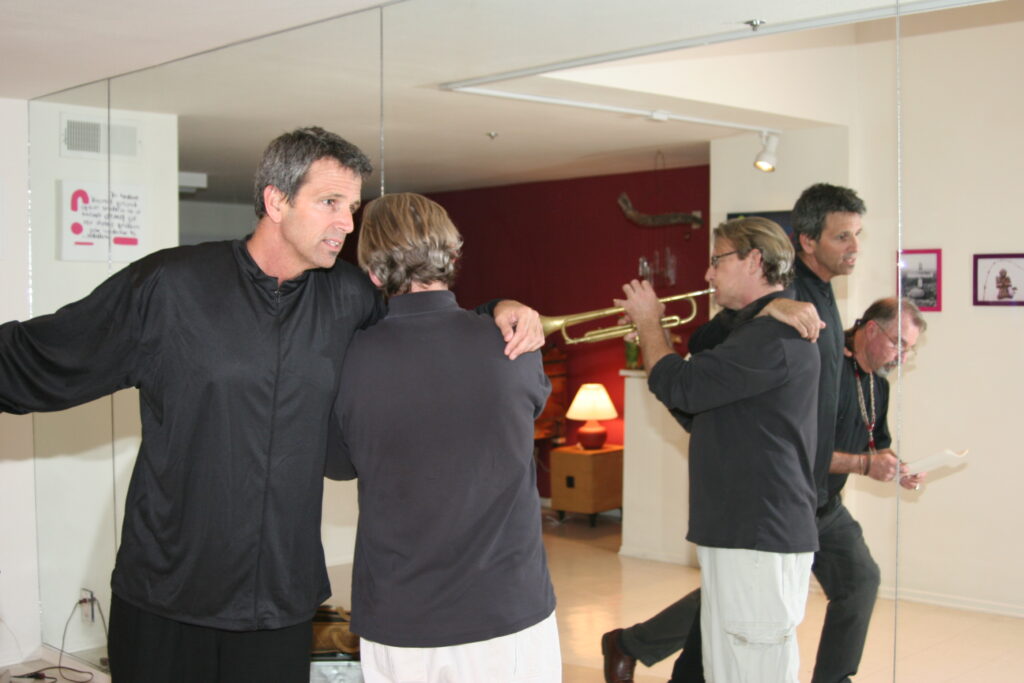 Rather than biography I would rather consider this a geography.  Our particular collaboration of Poet, Trumpet, and Tights is an expression of fellowship of souls: one, three, many, one; self, other, and greater than.  Beyond paradox.  I feel as if I am along for the creative ride when we three are at work with words, sound, and movement. "I" becomes lost, surrendered, broken, healed, highlighted, abandoned.  It's a terrific, humorous, disconcerting and soulful experience. 
As a becoming artist I also know myself deeply as also becoming a man. I cannot begin to define masculinity, or spirituality for that matter.  Yet as we brush the canvas of our artistic expression I dance an expression of ourselves as artists, men, masculine, and spiritual.  I wouldn't miss the opportunity to improv with Mitch or the find physical expression for Jim's poetry.
Mostly I do not wish to be found unless it is in dance.  I love to dance.  I love to dance. I move through this noisy, perfectly flawed humanity because I have been loved and I know it. I know that I am loved.  I know love.  I know all of this and more to be true.  I am, after all, Michael T.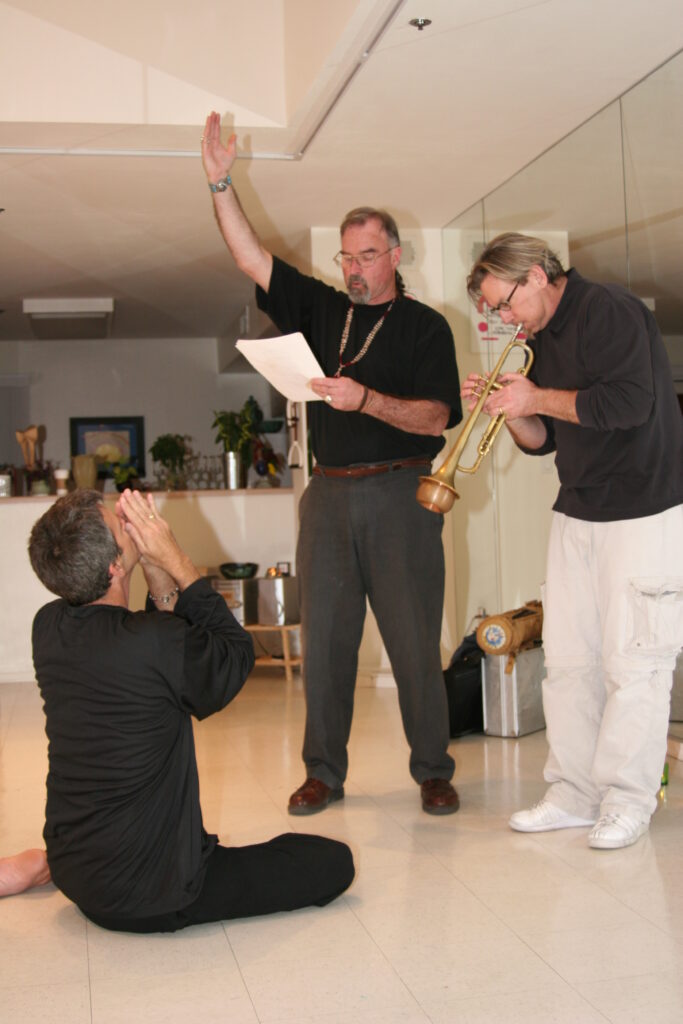 Jim Moreno was previously published in the Magee Park Poets Anthology and the Langston Hughes Poetry Circle Anthology. Moreno was also published in City Works, the poetry conspiracy, Poetry Super Highway, The San Diego Poetry Annual, Tidepools, and others. He is a past member of San Diego's Langston Hughes Poetry Circle (8 years) and a past board member of the African American Writers and Artists (2 years). Moreno published his first book of poetry Dancing in Dissent: Poetry For Activism in May of 2007 to further realize his goal of being a poet among poets.
Eusi Kwayana, his friend and fellow artist who wrote the Introduction to Dancing In Dissent states: " Moreno is not only like all poets, a person with a passion, he is a poet characterized by passion…as a Vietnam Veteran still in his fifties, he is over-certified to feel on these issues." Dancing in Dissent is an artivist's (artist & activist) voice, resonating with the legacy of Langston Hughes, a voice of freedom against racism, injustice and oppression